8 Great Party Ideas for Your Next Corporate Holiday Gathering
Having a holiday party is an annual tradition for many companies. Every year, companies hold holiday festivities for their employees to show appreciation, have a great time, and celebrate another season working together. It's a time to let your hair down– somewhat, as many parties are increasingly ditching the alcohol in favor of a sober gathering that is still fun. Well, if you've been the person designated in charge of the corporate holiday party planning, you may already be stressing about what you're going to do in order to make this party amazing. Here's 8 great party ideas that will definitely help you get a handle on your next corporate holiday party.

1. Make sure the entertainment is set.
Entertainment in any form is a must-have for any holiday party! Whether it's having a DJ spinning tracks, a photo booth, karaoke stations or even a magician, having something that allows people to interact and have fun is sure to be a slam-dunk.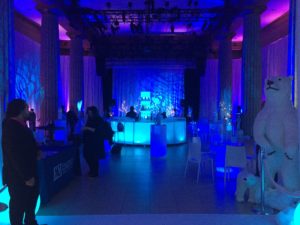 2. Go with a theme!
Theme parties sound cheesy but are really fun. Whether your theme ends up being under the sea or eighties costume, there's plenty to choose from.

3. Have door prizes or prizes throughout the night!
Whether it's an ugly sweater contest, door prizes, a raffle, or random giveaways, you'd be amazed at how much fun giving out prizes is. Who doesn't love the chance to win something?

4. Add a charitable aspect.
Incorporating a charitable cause into a party makes everyone feel good and also gives a deeper meaning to your celebrations. Whether it's a food drive, Toys for Tots, or benefitting a local shelter, finding a cause for the holidays can add a charitable and feel-good aspect to your get together.

5. Throw in gifts from the company!
If it's in the budget and your bosses are charitable, you may find that this may be covered by the holiday bonus. Even if it's just a small stocking, a gift will mean a lot to those who attend.

6. Have a gingerbread house-decorating contest.
You would be amazed at how much a simple activity enlivens a party! This is great because anyone who wants to participate can. You may have to limit how many people can participate, but just make up for this by allowing teams to sign up beforehand so you know who will be decorating. Even five teams of five can be relatively manageable; you just need five houses and toppings enough for each!

7. Have good food and drinks with options that are inclusive.
Have a little something of everything, with gluten free and meat free options. Be sure to incorporate low sugar or any other options for people you know have diabetes, gluten intolerance, et cetera. That way, everyone can enjoy food and drink without having to be accidentally excluded.

8. Have fun games to play.
Having a variety of games allows people who want to play to have a blast. Add a fun element to your corporate holiday party this year and bust out the games! Whether it's trivia, charades, pin the tail on the Christmas donkey or more, everyone will jump at the chance to have fun together with no work in sight!